Lemon sour cream cake is a decadent dessert that will wow your taste buds. This recipe brings back memories of summer days spent at my grandmother's house. The tartness from the lemon frosting pairs perfectly with the moist, rich taste and texture from the cake batter. You won't be able to stop eating this delectable dessert!
I hope you enjoy it as much as I do!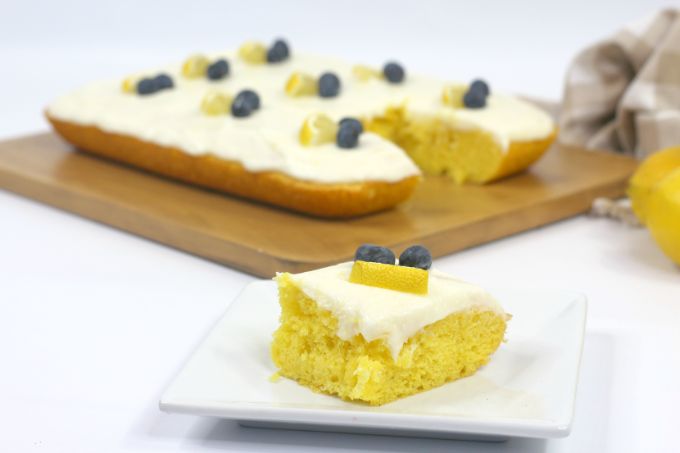 How to Make Lemon Sour Cream Sheet Cake
First, you'll need to bake your cake! Here are the ingredients you need for the lemon sheet cake:
2 cups cake flour
2 teaspoon baking powder
1/8 teaspoon baking soda
8 tablespoons + 6 tablespoons unsalted butter, soft
3 tablespoons oil
1 1/2 cups granulated sugar
8 large egg yolks, room temperature
1 teaspoon salt
Lemon zest from 4 lemons
3/4 cups sour cream, room temperature
Details for how to mix the ingredients are included in the printable recipe card below.
Icing for Lemon Sour Cream Cake
You're going to love the sweet yet slightly tangy icing on this cake. It's made with BOTH sour cream and cream cheese. However, if you don't want to use sour cream in the icing as well, just substitute 3/4 cup cream cheese plus 3 Tbsp. milk for the sour cream portion.
1 (8-oz) package of cream cheese, softened
2 cups powdered sugar
3/4 cup sour cream
Zest of 1-2 lemons
To see how to mix these ingredients, take a look at the recipe card at the bottom of this post.
Now, you may be wondering… why sour cream?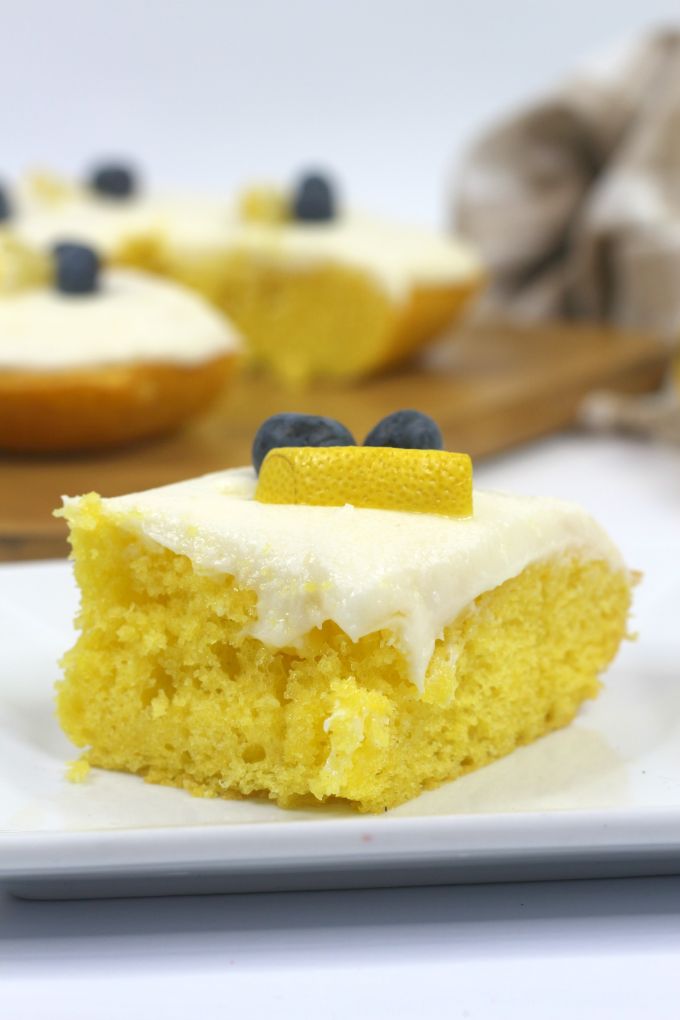 What does sour cream do to cake?
Sour cream has more fat than milk, so if you want a super-rich, super moist lemon cake, substitute sour cream and see what a difference it makes. Really, try it! It's a little something that will give your cakes more oomph.
Does sour cream affect the taste of a cake?
Sour cream makes the lemon cake taste a little less sweet and a little tangier. It is also thicker. The acid in the sour cream will help activate baking soda, which will make the cake rise better.
The acidity from the sour cream also helps to keep the inside of your cake moist as it is cooking so that it does not burn or dry out. No one wants a dry cake. No one.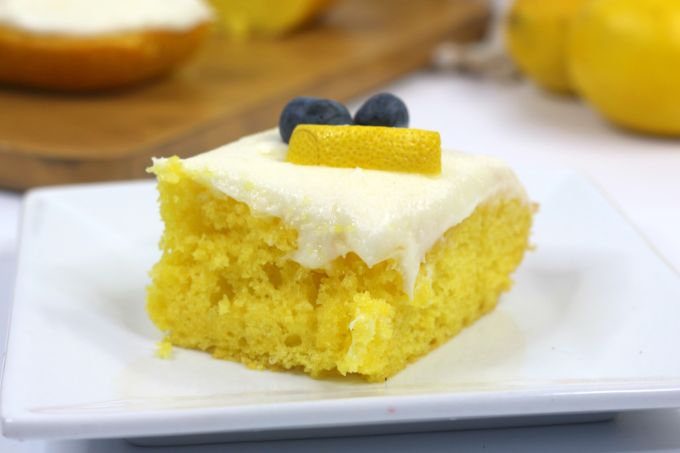 Can I omit sour cream from a cake recipe?
You can certainly omit the sour cream from this sour cream lemon cake recipe. I guess you'd have to call it something else, though. 😉
For the cake portion, substitute the sour cream with plain yogurt or plain Greek yogurt (not the sugary flavored kind). Use full-fat yogurt, not the low-fat kind.
You could also substitute buttermilk in the cake as well in the same proportions.
For the frosting, using plain yogurt may make it a little too tangy. Instead, if you want to remove the sour cream from the frosting, substitute 3/4 cup of cream cheese pulse 3 tablespoons of milk. So, since the frosting contains cream cheese already, that would alter the recipe to 14 ounces of cream cheese (plus the 3 tablespoons of milk).
What is a substitute for sour cream in cakes?
We just answered that above for this particular cake! But in general, you can substitute plain Greek yogurt. This works really well because it's about the same thickness and consistency.
Buttermilk is also an acceptable substitution, but you'll need to pour it slowly when mixing the ingredients since it's quite a bit thinner than sour cream.
Yield: 12-14 servings
Lemon Sour Cream Cake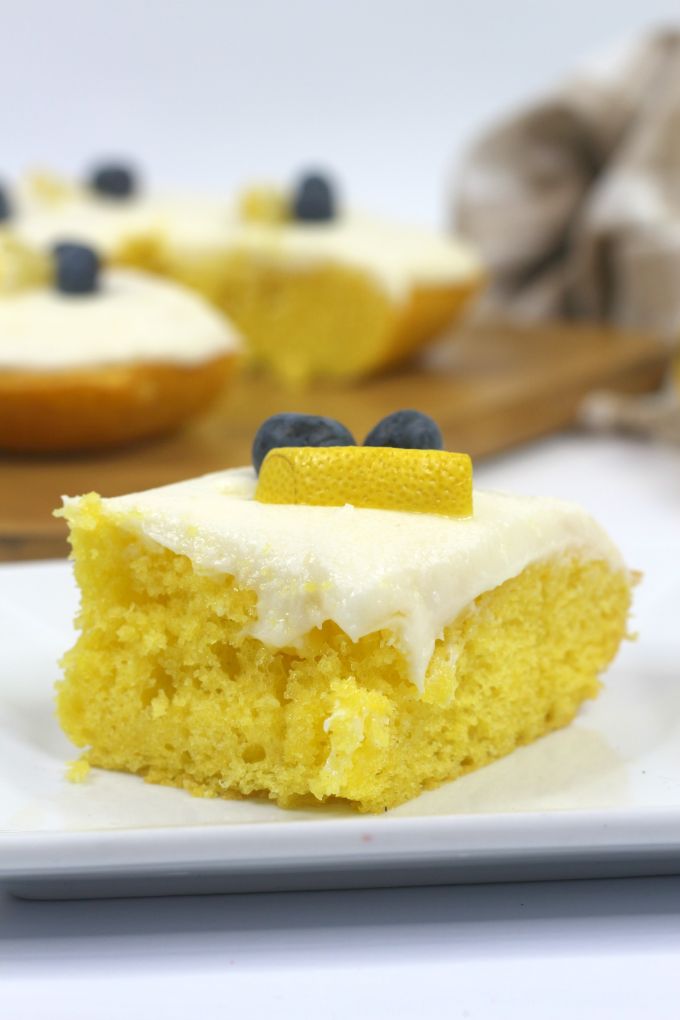 Additional Time
5 minutes
Ingredients
Cake Ingredients
2 C cake flour
2 tsp baking powder
1/8 tsp baking soda
8 TBSP + 6 TBSP unsalted butter, softened
3 TBSP oil
1 1/2 C granulated sugar
8 large egg yolks, room temperature
1 tsp salt
lemon zest from 4 lemons
3/4 C sour cream, room temperature
Sour Cream Frosting Ingredients
1 (8-oz) package of cream cheese, softened
2 C powdered sugar
3/4 C sour cream
zest of 1-2 lemons
Optional Ingredients
fresh blueberries and lemon slices for garnish
Instructions
For the lemon sour cream cake:
Preheat oven to 335°F.
Line a 9x13-inch pan with parchment paper. Alternatively, butter pan, sprinkle with a little flour, and set aside.
Sift together flour, baking powder, and baking soda, and set aside.
Mix butter until creamy and smooth.
Add oil and sugar and mix until light and fluffy.
Add one egg yolk at a time and mix at least 30 seconds between each.
Add salt and lemon zest.
Add 1/3 of flour and mix until combined.
Add 1/2 of sour cream and mix until smooth.
Add another 1/3 of flour and mix smooth.
Add remaining sour cream, and once combined, add remaining flour.
Scrape batter into pans, place in oven, and bake for 33-37 minutes until a toothpick inserted into the center comes out clean.
After 5 minutes, turn upside down on a plastic cutting board.
Once completely cooled, turn upside down onto a serving platter.


For the sour cream frosting:

To prepare frosting, mix cream cheese and powdered sugar at the lowest speed until completely smooth.
Add sour cream and lemon zest and combine.
Frost cake.
Garnish with lemon slices and fresh blueberries. (optional)
Serve at room temperature and store airtight.
Nutrition Information:
Yield:

12
Serving Size:

1
Amount Per Serving:
Calories:

463
Total Fat:

19g
Saturated Fat:

8g
Trans Fat:

0g
Unsaturated Fat:

9g
Cholesterol:

173mg
Sodium:

354mg
Carbohydrates:

68g
Fiber:

2g
Sugar:

46g
Protein:

8g
Nutritional data is calculated automatically and is intended for informational purposes only. I am not a certified nutritionist and any nutritional information on somethingsweettoeat.com should only be used as a general guideline. This information is provided as a courtesy and there is no guarantee that the information will be completely accurate.
Do I need to refrigerate a cake made with sour cream?
Yes, it's really best to refrigerate this cake that's made with sour cream because it's also an ingredient in the frosting. Keep it cool, in an airtight container for 5-7 days in the refrigerator.
Can you freeze a cake with sour cream?
Yes, you can absolutely freeze a cake made with sour cream. If you're not frosting it yet, leave the cake in the pan, cover it tightly with aluminum foil, and freeze it for up to six months.
If you're frosting the cake before freezing it, follow the same steps, but don't let it go more than 2-3 months, tops, in the freezer.
To thaw your cake, sit it on the counter overnight. It'll be ready by the next morning!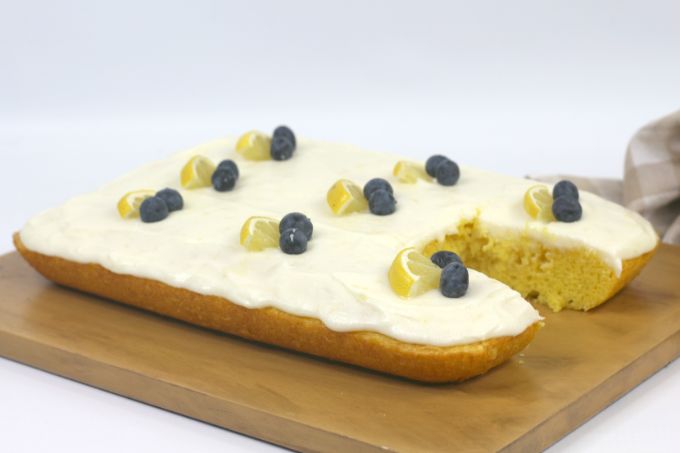 Try this made-from-scratch lemon cake
I hope you enjoyed this recipe for lemon sour cream cake and are considering making it for your next party or family gathering. If you're feeling adventurous, try adding a layer of lemon curd in the center to make this cake truly irresistible!
For more great recipes like this one that will help you wow your friends and family with decadent desserts, sign up for our newsletter. Be sure to share this post on Pinterest or Facebook so we can all enjoy these scrumptious treats together!
More Lemon-Flavored Sweets and Treats